Medical Device Development & Manufacturing
Platform-based development strategies to
get your product to market fast
Years of experience as a medical device development company
Medical Devices Brought to Market
Customers who request repeat business with us
On-time deliveries of medical products for clients
EARLY FEASIBILITY SERVICES
Set your program up for success by starting with a strong foundation
Leverage our 25+ years of medical device expertise to refine Regulatory, Clinical, Reimbursement and Product Development strategies
Build upon established hardware and software architecture to reduce time to market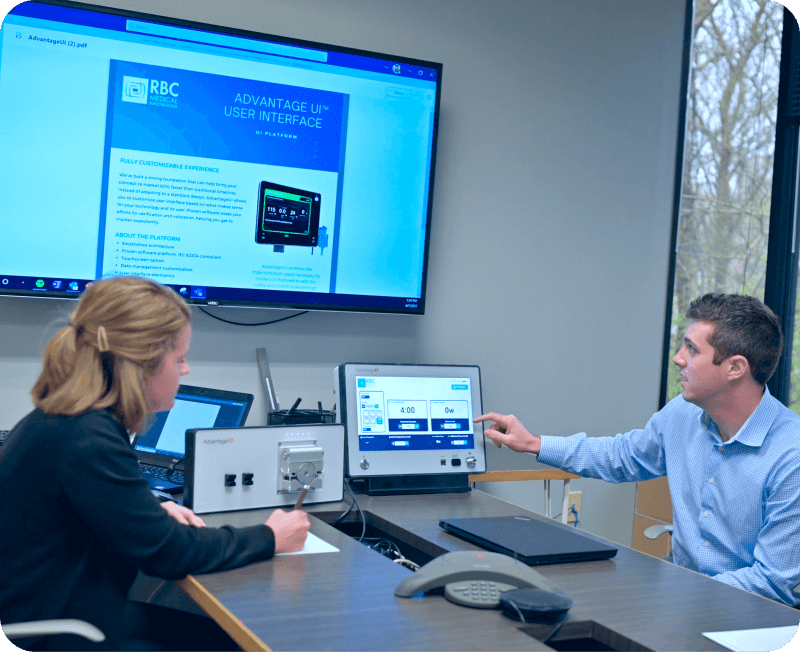 PRODUCT DEVELOPMENT SERVICES
Medical Device Development that decreases time to market while minimizing Execution Risk
Gain insight and expertise from a dedicated multidisciplinary team with experience developing 100+ complex medical devices
Avoid the most common mistakes that cause companies to repeat development steps, increase costs & delay launch timelines
Ensure your design is developed with supply chain risks and long-term manufacturability in mind
ADVANCED MANUFACTURING SERVICES
Medical Device Manufacturing That Grows with Your Organization
Scale production to suit your needs from clinical builds to full commercialization
Reduce supply risk with strategic supply chain resources and dedicated manufacturing engineers
Ensure regulatory compliance with ISO13485 Certification
"My relationship with RBC spans three different companies and 15 years. I return to the RBC team because they consistently deliver innovative solutions in a timely and cost-effective manner. I plan to continue this relationship for many years to come!"
"RBC has provided us with a broad range of expertise, from electrical and software design to quality assurance and regulatory affairs. It would have been unlikely we could have hit our scheduled milestones without their help."
We were a young start up with a great technology, but were running into issues that our manufacturing partner could not explain. Over a year later and still no clear solution, I engaged RBC to perform an independent analysis. Within 24 hours, they not only identified the issue, but also presented solutions to correct it. RBC came forward with the level of expertise that was necessary to help turn around the situation, allowing REACT to bring our advanced neuromuscular therapy to patients who need it.
"We were introduced to RBC during an acquisition. They were able to help define, develop proof-of-concept, prototype, fully develop, support in-vivo testing, certify, help gain regulatory approval and produce the first 100 units for a complex therapeutic device in less than two years. All of this in the midst of negotiating legal terms for the acquisition. I look forward to working with RBC on our next product!"
"We began our relationship with RBC for more than eight years to design and manufacture several radio frequency ablation medical devices. They have the staff, facilities and expertise to quickly produce the products we need, and the flexibility to respond to changes. I have counted on RBC to produce in several tough situations and they always come through."
"I have worked with RBC on a complex electro-mechanical product and recommended them to several friends. As impressed as I am with their ability to quickly produce quality outputs, I am more impressed with how they handle unexpected situations. Anyone who knows medical device development knows there are always unexpected situations. I highly recommend anyone who is developing a new electronic product contact RBC."
"We needed a firm with expertise in energy-based products and accessories. We approached RBC and found that not only did they have the expertise, but they had pre-made subsystems to accelerate and "de-risk" the program. I have since moved to a different part of the industry, but my former company continues to work with RBC to provide development and manufacturing services as well as subsystems. You cannot beat RBC for energy-based products!"
Need to shorten your medical device development timeline?
Our Advantage Platforms™ reduce design time and cost by an average of 60%
We partner with OEMs and startups to deliver high quality medical devices with speed and efficiency. By leveraging our proven processes, clients benefit from reduced costs and improved time to market, with confidence that we're upholding the highest quality standards. Together, we're bringing meaningful new and next generation therapies to the world.