Our Value Is Proven by
Our Work
Our experience building technologies covering a range of therapeutic uses brings efficiency and quality to your product development
Giving our clients a leading edge through new and next generation technologies
We're continuously evolving our software and hardware capabilities to drive innovation in healthcare solutions. We make the development and manufacturing process easy with a proven four stage process. Explore our technologies.
Radiofrequency Ablation
Pulsed Field Ablation
Cryoablation
Microwave Ablation
Surgical Generators
Fluid Management
Light Sources
Diagnostics
Ventilators
Electroporation
ECG
Pulse Oximetry
Surgical Robotics
Battery Operated Devices
Endoilluminators
Explore the evolution of Ablation Devices​
Access limitless options that can be tailored to meet your ablation clinical objectives. From Radiofrequency Ablation to Pulsed Field Ablation, our expertise has allowed us to create a wide range of ablation systems with varying channel configurations, temperature or power output, waveform design, electrode compatibility, adaptability with fluid management, user interface and controls, data management and more.
Experience faster development timelines and reduced program costs. Utilizing Advantage Platforms™ provides a product development head-start, expediting your go-to-market strategy.
Fluid Management & Syringe Pumps
Consistent fluid management that integrates with your generator or capital device. Let us help develop functionality your procedure needs to provide pressure, suction and fluid delivery or circulation.
Electrosurgical Generators and Light Sources
Smart solutions for a broad range of surgical needs. Reduced surgical time and meaningful procedural improvements are critical for new system adoption. Whether you're upgrading tools for cutting and coagulation or providing better visibility, our experience can help.
Stimulation and Compression
Product performance defined by your clinical needs. Explore our work in targeted therapies focused on patient healing and recovery.
Secure your device through robust cybersecurity measures. Our product development plans include cybersecurity measures to protect valuable medical device or procedural data and to secure your device, ensuring a safe procedure for the patient.
Define device reuse controls and restrict counterfeit or unapproved reuse with RBC's patented Impart™ Smart Chip Technology.
Staying connected is reaching further than remote and real-time access. Now you can leverage connectivity to push important data back to your system, such as general software updates, new graphical user interface features or other key needs as you identify them.
Helping our clients introduce new approaches to their clinical segments
From early prototypes to First-in-human use, to commercially distributed medical technology, our multidisciplinary team of medical device experts ensure quick turnaround with a cost-effective development process. Explore how our expertise translates in major market segments.
Neurosurgery
Pulmonary Health
Stroke/Embolism Therapy
Men & Women's Health
Physical Rehabilitation
Ear, Nose, Throat
Cardiac Health
Oncology
Drug Delivery
General Surgery
Digestive Therapies
Pain Management
Orthopedics
Ophthalmology
Advantage Platform technology expands into new indications
Get to market faster leveraging our portfolio of platform based systems and supporting technologies. RBC Advantage Platforms™ are used in a variety of clinical applications, starting from early feasibility and through to production.
Knowledgeable and accessible regulatory resources are critical for your vision to take flight. Our team has extensive experience clearing FDA and CE regulations and are actively partnering with clients as they work to meet the new EU MDR standards.
There are on-going developments in the realm of minimally invasive treatments, targeted therapies and image guidance for common prostate diseases, including cancer. Reduced treatment side effects, quicker recovery times and focus on minimally invasive treatments, such as cryoablation and microwave ablation, are improving outcomes in patients treated for prostate complications.
Earlier detection of solid tumors allows for targeted interventions intended to reduce the size or eliminate tumors. For end-stage metastatic disease in bone, treatments can offer pain palliation locally. New and next-generation devices used for oncologic interventions include radiofrequency, microwave and cryoablation generators, High Intensity Focused Ultrasound (HIFU), Reversible and Irreversible Electroporation, and drug-device combination treatments. Our experience spans an array of image-guided oncology solutions and we're continuously expanding in this area of expertise.
Breathing Patterns and Abnormalities
We have experience supporting a range of breathing support systems, from early assessment of respiratory health through spirometry to critical life support achieved with ventilators.
Vascular diseases and disorders are complex but expanded treatments have preventive and therapeutic effects for patients. While these solutions are broad, based on disease and severity and few examples of applicable devices include external, wearable compression devices and minimally invasive therapeutic delivery, such as endovenous radiofrequency ablation.
Heart disease is the leading cause of death in the U.S. and with the aging population, innovation must remain constant. Significant strides have been made to offer expanded options to improve Cardiac health and treat a wide range of Cardiac diseases. Our development teams have developed over 20 devices directly related to this segment, including 6 First-in-Human devices.
The severity of the opioid epidemic is more significant than ever, creating a great push in the direction of procedures to treat the source of pain. Some of these treatment options are more refined and elegant than ever before. Ablation procedures for nerve pain now have more customization, including cooled and non-cooled radiofrequency, cryoablation and stimulation options which can be used throughout the body, including within bone.
Medical Devices We've Built
Compression Pump
Cybersecurity
Device Connectivity
Stroke/Embolism Prevention
Our team is ready to answer all your questions about developing your next medical device.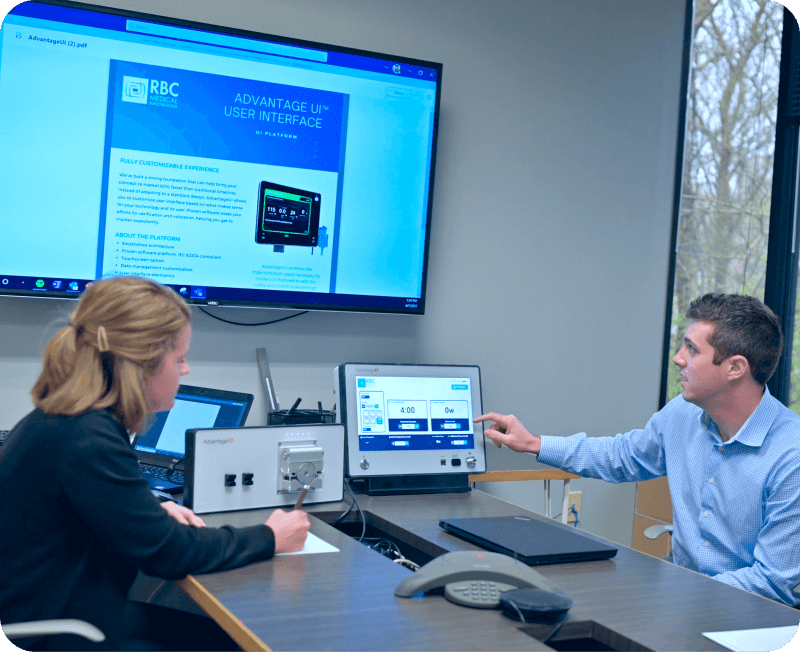 Early Feasibility Services
Our Advantage Platforms™ simplify the design process by allowing you access preexisting energy profiles and modify to your specifications.
Product Development Services
Our multidisciplinary team of engineers will guide your program through a trusted four phase plan.
Advanced Manufacturing Services
We bring in supply chain and manufacturing engineers into your program early, delivering a product that's ready for market.